Amy Marcs' Critically-Acclaimed Breast Cancer Comedy NICE T!TSReturns as a Celebrity Reading Featuring Women From Broadway's HADESTOWN:
HADESTOWN Cast Members: Yvette Gonzalez-Nacer, Kimberly Marable, Jessie Shelton, Kim Steele Will Star Alongside Amy Marcs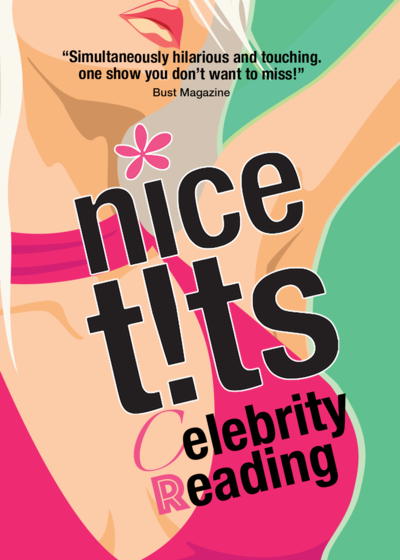 WHO: Amy Marcs and cast of the Tony Award winning HADESTOWN including Yvette Gonzalez-Nacer, Kimberly Marable, Jessie Shelton, Kim Steele, along with directors Coco Cohn and Peter Michael Marino
WHAT: Amy Marcs' hit solo comedy show about breast cancer, NICE T!TS, returns as a special benefit event featuring the cast of HADESTOWN
WHERE: The Triad, 158 West 72nd Street New York, NY 10023 
WHEN: February 24 at 7:00pm with additional upcoming performances March 30 & April 20 
WHY: Amy Marcs is a breast cancer survivor who needed to tell her story of "hope, love, and the resiliency of the human spirit, as well as our capacity to triumph over adversity even in the most traumatic of situations." A portion of the proceeds will go to support The Actors Fund's Phyllis Newman Women's Health Initiative, a program that addresses the myriad of concerns women face when dealing with a serious medical condition and provides a safe space to go to for confidential and compassionate help.  
HOW: http://www.triadnyc.com/event/d048d43caaaec1380884f3d0e821699e
Amy Marcs' critically-acclaimed solo comedy show about breast cancer is poised to return, reconstructed as a star-studded celebrity reading featuring familiar faces from Broadway and television. Just when life was going so well for Amy – a "sexy New York Jewess with a great rack," she was diagnosed with breast cancer. With an unlikely American icon by her side, she navigates the hills and valleys of doctor visits, toy stores, singing nurses, hellish support groups, and her understandably healthy obsession with her breasts. Amy's very personal story is full of humor and heart-felt honesty as she takes the audience on an exploration of her roller-coaster experience with breast cancer and its effect on her perceptions of femininity, womanhood, confidence and mortality.  Since 2015, "Nice T!ts" has been playing to capacity crowds across the country, touching the lives and hearts of almost 2,000 people. The show has paired up to raise awareness and essential funds with the iconic Avon 39, The Walk to End Breast Cancer, Hadassah of Boston, Jewish Family and Children's Services of Greater Mercer County, YMCA Breast Cancer Resource Center, and Sharsheret. "I needed to write this story about hope, love, and the resiliency of the human spirit, as well as our capacity to triumph over adversity even in the most traumatic of situations," said writer/creator and star Amy Marcs. "Comedy is a powerful vehicle to share stories that may otherwise be hard for people to digest. It allows you to take the uncomfortable and make it comfortable. Laughter is and always will be the best form of therapy."
Amy Marcs (Playwright/Performer) is an actress and voice over artist signed with The Buchwald Agency in NYC and WME in Los Angeles. Amy wrote and stars in her critically acclaimed autobiographical one woman show "Nice T!ts." She has performed to sold out crowds at The PIT in New York City, Project Y's 'Women in Theatre Festival', The Alliance for the Arts Theatre Conspiracy in Fort Myers Florida, and Cape May Playhouse. Amy has partnered with the iconic Avon 39 charity, the walk to end breast cancer, Hadassah of Boston, Breast Cancer Resource Center of Princeton, Jewish Family and Children Services, and Sharsheret. Amy has also been a featured speaker and performed scenes from her show to some of the most renowned plastic surgeons in the world at The Breast Cancer Reconstruction: State of the Art 2016 closing gala at the Kimmel Center in NYC where she was able to share her insights as a breast cancer patient and survivor. She has been a guest on Fresh 102.7 radio, 'Dennis has a Podcast' and Sirius XM 'Doctor Radio'. Amy's work as an actress has also taken her to regional theaters across the country. Some of her favorite roles include, Gorgeous in 'The Sisters Rosensweig', Myrtle in 'Kingdom of Earth' and Lucille in 'Gemini' as well as being part of an iconic 'Harold' team at The Upright Citizens Brigade Theatre.  Amy's screen work includes the independent film The Waiting Game, and you can hear her as the voice of Peg the Pig in the animated feature film Impy's Island, which had its premiere at the Tribeca Film Festival in NYC. Her voice has been heard on numerous national network television promo and political campaigns. She is currently a Professor of Acting at The New York Conservatory for Dramatic Arts, and is an ordained interfaith minister and spiritual counselor. Amy is grateful to have an opportunity to share her story and to use the transformative power of art to heal.  
Coco Cohn (Director of Celebrity Reading) spent nearly three years as Dancing Queen, Rosie in the Broadway company of Mamma Mia! Recent credits include: Fun Home – WPPAC and Phoenix Theatre (Alison). MAME – North Shore Music Theatre (Agnes Gooch). Into The Woods – Theatre Under The Stars (Jack's Mother). EMMA – TheatreWorks Silicon Valley (Miss Bates). The Drowsy Chaperone – Gateway Playhouse (Chaperone). 2011 Helen Hayes Nominee Glimpses Of The Moon – MetroStage (Coral). TV: "High Maintenance," "The Family," "Royal Pains," "Deadbeat," "House," "Desperate Housewives." Film: Morning Glory, Catch Me If You Can, Legally Blonde 2, Secretary, Solaris. Paul Gordon's EMMA was filmed for a brand-new streaming platform. In it, Lauren reprises her role as Miss Bates. It is available now at www.StreamingMusicals.com and on Amazon Prime. Additionally, she has proudly developed and directed multiple solo shows for exceptional performers, and also coaches young theatre professionals with the critically acclaimed A Class Act NY.   
Peter Michael Marino (Original Direction) is an award-winning teacher, director, producer, writer, and performer. He's the creator of SOLOCOM, which has launched over 600 world-premiere solo comedies at The People's Improv Theater. Solo show directing credits include: Amy Marcs' "Nice T*ts," Cynthia Shaw's "Velvet Determination," Rebecca Packer's "Off Island," Elyssa Rosen's "Mom in Transition," Mark Demayo's "20 & Out," Mark Giordano's "Mad Man," and dozens more. His long-running solo comedy "Desperately Seeking the Exit" chronicled the unmaking of his West End musical flop "Desperately Seeking Susan" – receiving 5-star reviews and a London transfer. His solo show deconstruction "Show Up" played everywhere from NYC to Edinburgh. The family-friendly version, "Show Up, Kids" has been playing around the world since 2017. His production company PM2 Entertainment, has presented UK comedian David Mills, The Unofficial Upper East Side EdFest, Jason Kravits' "Off the Top!," trumpcon: A Performance Festival of Yuge Proportions at The Kraine, LA comedy duo Moby Alpha, the NYC premiere of "Joe's NYC Bar," and the acclaimed solo show hit "David Carl's Celebrity One-Man Hamlet." www.petermmarino.com