SPICY WITCH PRODUCTIONS
PRESENTS
WORLD PREMIERE OF
THE VIRTUOUS FALL OF THE GIRLS FROM OUR LADY OF SORROWS
WRITTEN BY GINA FEMIA
DIRECTED BY BLAYZE TEICHER
IN REP WITH 
MEASURE FOR MEASURE 
WRITTEN BY WILLIAM SHAKESPEARE 
ADAPTED & DIRECTED BY PHOEBE BROOKS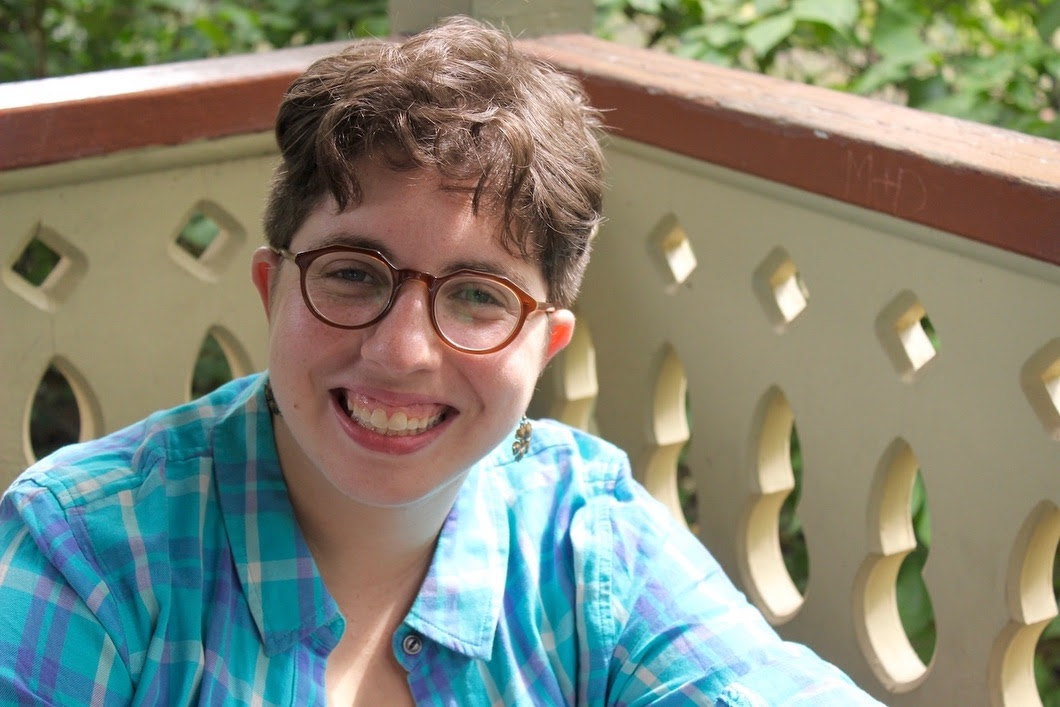 Measure for Measure director, Phoebe Brooks
VIRTUOUS FALL OPENING MAY 21
MEASURE OPENING MAY 22
MAY 17-JUNE 1 @ THE FLEA THEATER
Spicy Witch Productions 
will present the World Premiere of 
The Virtuous Fall of the Girls From Our Lady of Sorrows
 written by 
Gina Femia
 (Princess Grace Award Finalist for
 The Mermaids' Parade
; The Kilroys List Honorable Mention for 
Annie and the Fat Man
), directed by 
Blayze Teicher
 (
Trainspotting Live
;
 Mother Knows Best 
with New Light Theatre Project) in rep with an audacious cut of William Shakespeare's 
Measure for Measure
, adapted and directed by 
Phoebe Brooks
 (
Hamlet the Hip-Hopera 
at FringeNYC, 2015) at 
The Flea Theater
 (20 Thomas Street New York, NY 10007), 
May 17-June 1
. Performances for 
The Virtuous Fall of the Girls From Our Lady of Sorrows
 will be on Friday, May 17 at 7pm (press preview), Saturday, May 18 at 3pm (press preview), Tuesday, May 21 at 7pm (opening night), Thursday, May 23 at 7pm, Saturday, May 25 at 3pm, Tuesday, May 28 at 7pm, Thursday, May 30 at 7pm, and Saturday, June 1 at 7pm. Performances for 
Measure for Measure
 will be on Saturday, May 18 at 7pm (press preview), Sunday, May 19 at 3pm (press preview), Wednesday, May 22 at 7pm (opening night), Friday, May 24 at 7pm, Saturday, May 25 at 7pm, Wednesday, May 29 at 7pm, Friday, May 31 at 7pm, and Saturday, June 1 at 3pm. Tickets 
($25 General; $40 Season Pass)
 are available at 
http://spicywitchproductions.com/
 or by calling The Flea Box Office at 212-226-0051.
Spicy Witch Productions' seventh season will explore the vital relationship between speech and power with William Shakespeare's Measure for Measure in repertory with the World Premiere of The Virtuous Fall of the Girls from Our Lady of Sorrows by 2019 Writer-in-Residence Gina Femia. In the wake of the political and cultural tumults women have endured this year, SWP's season re-examines a frustratingly timeless question: even if you speak the truth, who will believe you?
The Virtuous Fall of the Girls from Our Lady of Sorrows, inspired by Shakespeare's famous problem play, is a hilarious exploration of teenage revolution in the face of petty authoritarianism. Set in a Catholic girls' school, Gina Femia's play recounts the ripple effects caused by one student's decision to produce M4M2, a controversial sequel to Measure for Measure.
SWP's fresh take on Shakespeare's Measure for Measure tells the story of women coming together to uncover a history of sexual harassment buried within the Justice System. This production explores sisterhood through a problematic classic and uncovers the zany humor at its core.
The two productions will share a cast which features Mia Canter (The Misanthrope with Underling Productions; Becky Shaw with SWP), Shavana Clarke (Wendall and Pan at The Tank; Basic Bitch…Resistance at The Pit Loft) Alia Guidry (One Day Like Thisat Main Stage Live; The Triune Brain with Amios), Ashil Lee (All One Forest with She Doth Persist; Lifetime Supply with Neon Caviar), Renita Lewis (Photo Play at Dixon Place), Sarah Rosengarten (Dandy Be Good in the Exponential Festival; Before the Orgy at NY Summerfest), and Pearl Shin (good friday at The Flea; Could This Meeting Have Been an Email with SWP). Blake Prentiss (Hamlet with Arclight Theatre) and Stephen Zuccaro (There's No Here Here at Theater for the New City; Deadly Humor at Theater Row) will join the cast for Measure for Measure. The design team for the rep will include Lighting Design by Yi-Chung Chen (The Talmud with the Exponential Festival; Animal Magnetism with Mabou Mines), Set Design by Lindsay Genevieve Fuori(The Earth Room with Fresh Ink Theatre Co.; Die Fledermaus with MassOpera), Sound Design by Carsen Joenk (Ribbon About a Bomb with ECC; Restaurant in D Major with Two-Headed Rep), Props Design by Megan McQueeney (The Cunt/The Country Wife with SWP), and Costume Design by Noelle Quanci (stylist for The Food Network).
Gina Femia (Playwright) 
has written 30 full-length plays, which include 
Alond(r)a
 (Winner: Leah Ryan Prize; Runner-up, 2019 Yale Drama Prize), 
The Mermaids' Parade
 (Semifinalist, The Relentless Award; Finalist, Princess Grace Award), 
Rebels 'Til Death
(Playwrights Horizons reading series), 
Annie and the Fat Man
 (Honorable Mention, The Kilroys), 
This Happened Once at the Romance Depot Off the I-87 in Westchester
 (Workshop, Youngblood), 
Super, or, How Clark Graves Learned to Fly
 (semi-finalist The O'Neill and The Princess Grace Award), 
For The Love Of
 (Pride Films & Plays, Theatre of NOTE), 
We Are A Masterpiece
(Nominated Outstanding Original Full-length play, NYIT Awards) and 
The Violet Sisters
 (Great Plains Theatre Conference). Gina is a current member of Joust Theatre's Writer's Round Table and Project Y Writer's Group. She is a New Georges Affiliated Artist and a New York Madness Company Member, and has received residencies with P73's Summer Residency, Powerhouse, NTI at the O'Neill, SPACE on Ryder Farm, and Fresh Ground Pepper. MFA, Sarah Lawrence College (Lipkin Prize in Playwriting).  
www.femiagina.com
Blayze Teicher (Director, The Virtuous Fall of the Girls From Our Lady of Sorrows) 
is a Brooklyn-based director who develops Queer, magical, and political stories for theatre and film. Recently, she served as the Resident Director of the Off-Broadway immersive show 
Trainspotting Live
 and is an Artistic Associate of The Parsnip Ship, a podcast series of new plays paired with live music. Credits include 
The Diplomats
 by Nelson Diaz-Marcano (Winner: Outstanding Direction, Fresh Fruit Festival, Downtown Urban Arts Festival), 
Charlie's Waiting
 by Melisa Annis (UNDER St. Marks), 
How to Field Dress an Android
 (University Settlement), 
Mother Knows Best 
(New Light Theatre Project), 
Paper Towels
 by Nelson Diaz-Marcano (The Brick), and 
The Day the Sky Turned Black
 (United Solo Festival, co-directed by Elyzabeth Gorman). Development credits include Alexander Sage Oyen's 
A Night Like This
 (F/54 Below), Andrew 
Rincón's I Wanna Fuck Like Romeo and Juliet
 (The Parsnip Ship), Andrew Rincón's 
You Got That Same Kind of Lonely
 (Amios), Grace Connolly's 
The Escape
 (The Playwriting Collective), Ben Ferber's 
I'm Very Online
 (The Dirty Blondes), and Gina Femia's 
The Mermaids' Parade
 (The Parsnip Ship). As a filmmaker, her work has screened at several festivals across the country, including Out on Film Atlanta and the Palm Springs LGBT Film Festival, and has been featured on Huffington Post, Broadway World TV, and Funny or Die. She directed the original series 
Interested In
 now streaming on Amazon Prime channel Dekkoo and guest directed for the hit-comedy series 
Tough Love
. Currently, she's the Producing Manager for the Lee Strasberg Theatre and Film Institute. Blayze has assisted for Portia Krieger (2ST Uptown, NYMF), Ilana Ransom Toeplitz, Carolyn Cantor, Lauren Keating, and Sarna Lapine. 
http://blayzeteicher.com/
Phoebe Brooks (Director, Measure for Measure) 
is a theater creature. For SWP she has directed 
Mary Stuart, COULD THIS MEETING HAVE BEEN AN EMAIL 
by Kristin Slaney
, The Country Wife
 & 
Becky Shaw
. Other directing credits include 
All One Forest
 by Joe Raik (She Doth Persist), 
Romeo & Juliet
 (Match:Lit) , 
Hamlet
 (ADK Shakes), 
Hamlet the Hip-Hopera
 by Tucker Delaney-Winn (FringeNYC, Fringe Fav '15), 
Marie Antoinette 
(HMTC/A) and 
Dance Telephone
 (Feast). Workshops: Isaac Allen Miller's 
Big Bad Little Bad 
& Aleda Bliss' 
Dottie Parker, He Murmured.
 Phoebe also serves as Programming Director for Spicy Witch Productions. 
www.phoebebrooks.com
Spicy Witch Productions explores gender and identity through the pairing of classical and contemporary plays in repertory. Dedicated to creating roles for women on and offstage, Spicy Witch aims to help close the gender gap in theater and to use the conversation between classical and contemporary text to initiate a dialogue and be a catalyst for social change. 
Previous reps include The White Wife Series: Shakespeare's Othello and Paula Vogel's Desdemona: A Play About a Handkerchief in 2013, Un-Rom Com: Shakespeare's Two Gentlemen of Verona and Gina Gionfriddo's Becky Shaw in 2014, The Cuntry Wife: William Wycherley's The Country Wife and Elle Anhorn's (SWP 2015 Writer-in-Residence) The Cunt in 2015, Tragislasher Season: Thomas Middleton's The Revenger's Tragedy and Annette Storckman's (SWP 2016 WIR) Bonesetter: A Tragislasher in 2016, Reigning Women: Friedrich Schiller's Mary Stuart and Kristin Slaney's (SWP 2017 WIR) COULD THIS MEETING HAVE BEEN AN EMAIL in 2017, and Dream Season: Life Is But a Dream (a new translation of Pedro Calderon de la Barca's La vida es sueño by Shawn Morgenlander) and Iris Dauterman's (SWP 2018 WIR) Merrily, Merrily in 2018.
SWP's 2019 season is made possible in part with public funds from Creative Engagement, supported by the New York City Department of Cultural Affairs in partnership with the City Council and administered by LMCC.